Our community outreach efforts can be seen below …
Urban Arts Initiative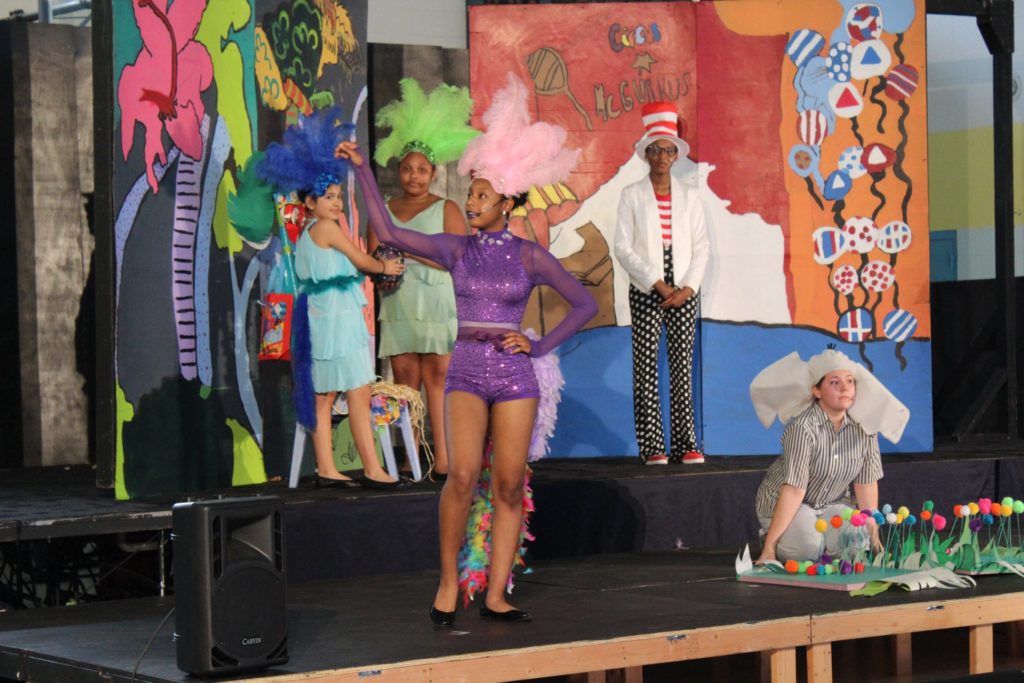 Urban Arts Initiative (UAI) benefits underserved students throughout St. Louis in their own communities. This year-round program provides local schools, youth organizations, and community centers that are unable to offer theatre arts education with STAGES Performing Arts Academy teaching artists to teach classes and assist in staging productions. UAI is offered at little or no cost to the partner organization.
STAGES' UAI program strives to create a stronger community through accessibility and appreciation of the arts. STAGES developed educational Outreach programs as a response to schools cutting back or eliminating arts from their curriculum. UAI fills that educational gap when schools and youth organizations do not have the funding, manpower, or experience necessary to provide performing arts programs on their own.
UAI reaches approximately 750 underserved students in St. Louis City and St. Louis County with direct classroom instruction. More than 3,000 additional students and community members are reached through program showcases and performances annually. Since 2004, STAGES has conducted more than 250 UAI programs ranging from one-hour workshops to full school-year residencies throughout St. Louis.
All UAI programs are created in concert with the partner organization's administration to offer a unique, customized curriculum that supports the needs of their students. The STAGES Performing Arts Academy is always open to new and additional Outreach partners. Please contact the SPAA (or PAA – whatever acronym we're using) administrative office for more information on how your school or group could benefit from a UAI program today.
Access the Arts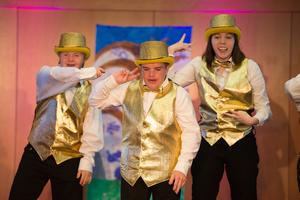 Unique within the St. Louis region, STAGES' Access the Arts programs consist of classes, workshops and performance opportunities that enable area youth with physical, cognitive or developmental delays to fully participate in the musical theatre arts.
Dedicated to developing participants' skills in acting, singing, dance (and thereby the related areas of communication skills, speech and gross motor development) Access the Arts programs feature traditional musical theatre courses adapted to meet the needs of all participants.
Taught by professionally trained teaching artists and special educators, Access the Arts includes year-round once-a-week classes, multi-week summer workshops as well as the performing ensemble Troupe Broadway.
In addition to these specialized programs, STAGES also welcomes all students to participate in any Academy class or workshop in an inclusive environment.
For more information on specialized and inclusive class opportunities,
please call the Academy at 636.449.3941
Troupe Broadway
Troupe Broadway is a performing ensemble comprised of area teens and young adults with physical cognitive or developmental delays.
Created in the Fall of 2006, this unique program provides on-stage performance experience to students who have not traditionally been provided this special opportunity through their school or other community outlets.
Annually this inspiring troupe of dedicated performers develops and rehearses a revue of classic musical theatre material which is performed throughout the St. Louis area and beyond.
Past Performances
Knights of Columbus – Incarnate Word Parish – St. Louis
Down Syndrome Awareness Day at Barnes & Noble Booksellers
DSA Family Conference
REC Council Annual Meeting & Recognition Ceremony
The Lodge in Des Peres
Missouri Governor's Council on Disabilities Youth Conference – University of Missouri – Columbia
Mary Ryder Home – St. Louis
Special Olympics of Missouri State Basketball Kick-off – St. Charles West High School
St. Louis ARC Annual Variety Show – University of Missouri – St. Louis
Park Place Senior Living – O'Fallon
Family Support Services – O'Fallon
Check back for updates on newly scheduled performances!
If you think an inspiring 10-20 minute performance from Troupe Broadway would be a perfect fit for your community event, recognition/fundraising dinner or church function, please let us know! We'd love to hear from you!
Contact the STAGES Academy at 636.449.3941.
School Programs
STAGES IN SCHOOLS is a program offered to schools throughout the St. Louis region which brings STAGES artists into the classroom or after-school program. Workshops and multi-week residencies are available on a variety of topics ranging from technical theatre to careers in the arts, as well as instruction in acting, dance or musical theatre.
In addition to providing training in a selected topic, STAGES IN SCHOOLS programs instill in students a love for the arts and a respect for the craft of the theatre professional.
Through the STAGES Urban Arts Initiative, STAGES brings its educational outreach programs to urban schools and community groups. These STAGES workshops and residencies introduce underserved students to the magic of musical theatre and the empowering potential of an arts experience.
STAGES currently has developed relationships with the following schools and community organizations:
Archdiocese of St. Louis
Blessed Theresa of Calcutta
Central VPA High School
City Academy School
Community School
Downs Syndrome Association
Francis Howell School District
Grand Center Arts Academy
Howard Park School / AFA Academy
Independence Center
Lemay Child & Family Center
Litzsinger School
Marian Middle School
Mary Queen of Peace School
Mehlville High School
Normandy School District
Our Lady of Lourdes School
Parkway School District
Parkway / Rockwood Community Education
Promise Christian Academy
Reed Elementary
Ritenour High School
Riverview Gardens High School
Rockwood School District
Rohan Woods School
Special School District
St. Austin School
St. Cecilia School
St. Charles Borromeo School
St. Justin Martyr School
St. Margaret of Scotland Catholic School
St. Luke's Pujols Center
St. Louis ARC
St. Louis County Libraries
Wentzville School District
For more information about STAGES IN SCHOOLS or STAGES Urban Arts Initiative, contact Katie Hayes at 636.449.3941.
Scout Workshops
Girl Scout Badge Workshops
STAGES Academy provides opportunities for Girl Scouts to earn their performing arts badges. You can earn these badges and more at our Academy in Chesterfield or our teaching artists can come to you!
Contact the Academy for details:
Katie Hayes at 636.449.3941.
All workshops are $15 per girl with a minimum of 6 & maximum of 15 girls. There is an additional $25 fee for our teaching artist to come to your school.
Courageous & Strong Red Petal for Daisies
Dancer Badge for Brownies
Playing the Past Badge for Juniors
 Public Speaker for Cadettes
Troupe Performer Performance for Seniors
---
Boy Scout Electives & Merit Badges
Have fun as STAGES helps your troop earn the Showman Activity Badge for Webelos
We also offer fun workshops featuring comedy improvisation, puppet making, musical theatre and more!
Contact the Academy for details:
Katie Hayes at 636.449.3941.